Hideaway Duffel - Aqua
Guaranteed Safe Checkout
Designed for stress-free travels with pets
Pets can be the best travel companions, but they also experience a lot of fear when outside of their comfort zone. The Hideaway Duffel is designed to help keep pets safe, healthy & secure.
Thoughtfully Designed
Convenient Three-Way Mesh Entry
The three mesh sides provide your pet with ample ventilation during your travels, which is extremely important. The top-loading design is convenient for loading cats.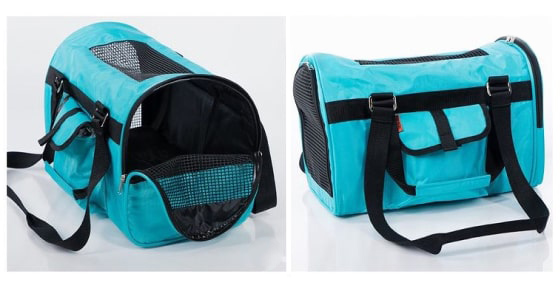 Pet-Approved
Help Reduce Your Pet's Travel Stress
The Hideaway Duffel keeps your pet comfy and cozy while reducing the amount of stimuli they receive, for less fear, anxiety, and stress while traveling.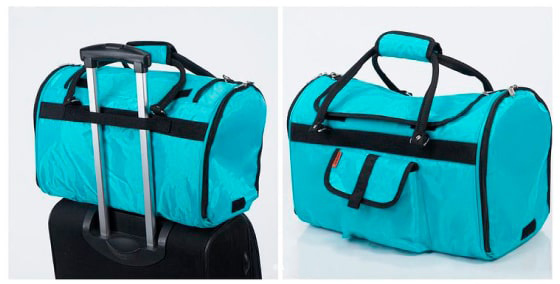 For pets' security and comfort
Excellent travel experience
Award-winning product
The Hideaway™ Duffel Pet Carrier was awarded 2017 Best New Product for Pet Fear, Anxiety, & Stress by the organization Fear Free Pets.
Easy to clean & wash
Wash the poly fleece baseliner effortlessly in the washing machine. The coated polyester woven fabric exterior is easily cleaned with soapy water.
Super convenient pocket
Easily carry your pet's treats, medications, waste bags, and other essentials in the ergonomic side pocket of this premium carrier bag.
Perfectly sized & portable
Dimensions 17"L X 12"H X 10"W, with the max load of 16lbs, it's AIRLINE APPROVED! Compliant with major airlines' in-cabin carry-on regulations.
Easy access to your pet
For optimal stability in motion, connect your pet's harness to the interior clip. Also, you can zip the privacy covers shut to close out distractions or unzip them during downtime to talk to your pet.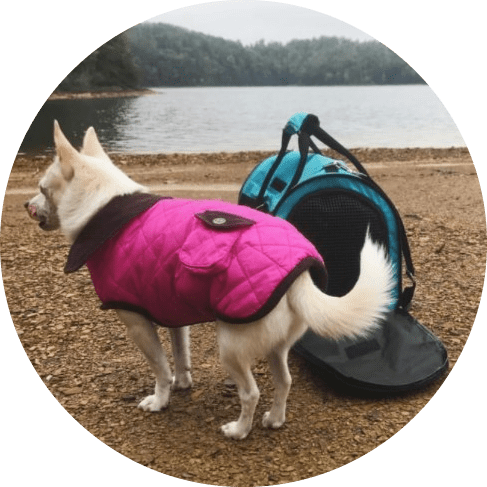 Ultimate Comfort & Protection
Frequent travelers know that comfort and protection are must for their pets. That's why this carrier is made with a water-resistant coated polyester canvas exterior and "fur catch free" silky interior lining. Patent sound barrier minimizes pet's travel anxiety and shields pet's sensitive hearing from elevated environmental noise.
About Prefer Pets
My husband and I started Prefer Pets in 2006 on an afternoon drive to Victory Park in Pasadena CA, to spend a lovely Saturday with our 2 pekes, Button and ShoSho. On our way there, our boy Button escaped from the carrier that we had bought at a pet box store and proceed to play with us by running around on the floor of the car, ducking under the car seats, and finally wedging himself behind the brake pedal (Button being a tiny 3 months old at the time). Luckily, we were able to stop the car without any injury.This is when we knew we need to have a better carrier to travel safely with our 2 fur-kids. From our first carriers, original duffel and original backpack, created with features and functions that we wished we had on that day, we have persistently evolve the designs of our bags based on feedbacks and pressure points from real customers and from our own journeys with Button and ShoSho as they grew older. Every Prefer Pets product that we make, it is with the thought of what we would want ourselves in term of mindful designs, quality material & construction, and customer service when we were buying pet products for Button and ShoSho. Today, we proudly remain a family business and are still based in Southern California, and while our little boy and little girl are no longer with us, we are committed to continue making quality travel carriers for pets and the people who loves them, for enjoying life's journey with their own Buttons and ShoShos.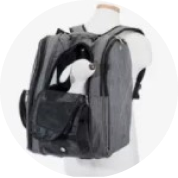 Designed In
Rancho Cucamonga, California
I highly recommend this bag!!

I like it! 4 stars because I haven't used it yet.

worked perfectly well during my corgi's pup first flight!

The bag is very sturdy, but lightweight! The mesh is not the cheap mesh you find in other duffels that is easily torn. This is extremely well made!! Don't be put off by the price as it is great quality and worth every penny!! I've had cheaper bags, but they have fallen apart quickly!!

is a perfect bag and we highly recommend it!

Not as sturdy as expected. Zippers aren't easy and when one side isn't zipped, the top nearly collapses.

Perfect for traveling. Great for letting your puppy have some room. Shipped fast!

This item is very comfortable. My dog absolutely loves getting into it even if we're not going on for a ride in a minute. I open it and he goes into it with such a breeze I definitely recommend this to all pets especially for traveling!

I spent A LOT of time looking for a duffel to pick up my pup, and this was perfect! It has a good amount of pockets for storage and looks nice too! I had no problem flying Southwest with this duffel and was surprised my golden retriever pup could fit and be comfortable.

Super handy, good quality!

Very versatile bag which is great for traveling. My husband and I bought this mostly to be used as a handbag, and to travel under the airplane seats. Size is good for our Chihuahua mix, she's short but longer body. More other color options would also be nice, but that is obviously not a big deal.

This is the best duffel we were able to find for our Boston terrier who travels with us domestically. We love that we can expand it to give him a little more room once we're up in the air. The only negative is that it's not very spacious as I think.

Used this UAE to USA flight for my cat. It's well made and sturdy.

This is the second one we purchased —only because we accidentally left our other one on the train in the airport! (Don't worry, we had the dog on a leash with us.) We liked it so much we ordered the exact same one. Sturdy, looks good, comfortable for our dog. Recommend it.

This is a great pet duffel for taking your small dog or cat on flights. There is lots of ventilation so your pet will ride comfortably too. It is well made and stylish too.

I purchased this for my pet cat as she is afraid of most everything. I put this on the floor so that she could get used to it and she actually goes in. These will be better trips to the vet. Well made and can be used on air flights.

Since I have had this less than one month, all is good. It seems well made and holds my cats. I purchased this for my cats. My cats like to be inside the duffel all the time. I think they feel safe. When I took my ailing cat, the white one, into the Vet, other PetParents wanted to know all about the duffel. I directed them here. My Maine Coon has made this duffel his own.

Product delivered as described, thank you! Upon initial inspection, the duffel appears well made and plenty spacious for our 5mth old rescue puppy (pug). To assist others, please know we purchased the large duffel for our puppy that weighs 13 lbs and is approx 22 inches in length, head to tail. He has plenty of room to turn around and he fits comfortably. We are looking forward to using it here soon and will post a follow up.

My dog is older and I'm always looking for new ways to transport him because he goes with me everywhere. He has a stroller and an airplane duffel. This bag caught my attention because I wanted something that would allow me to carry him on my back or front when we are going to public events and not have to deal with the stroller. He loves it and is very comfortable with it. I like the fact that I can keep it open so his head can be out to socialize with others. Very comfortable for me and very workable. The size is perfect. I wish I could lower it when I'm carrying him in front, but the versatility of the other handles/straps makes it workable.

I have 3 cats that I need to take overseas with me when I move next from the U.S. to Europe next month. My nerves have been a mess trying to find a duffel that was IN-CABIN AIRLINE COMPLIANT, while being roomy, comfortable, breathable and SAFE/STURDY for my cats. BRAVO! You have all the right attachments and all the right design!! The bag is sturdy, but not heavy. The material is strong and safe. This is BRILLIANT! ABSOLUTELY BRILLIANT!! THANK YOU! THANK YOU!! WELL DONE!! If I could give you 10 stars, I would!! I am so grateful to you for making a smart, safe and reliable duffel to transport my babies in! WELL DONE!!!!!!!!!!!!!!!!!

So far this year my pup and I have taken about 15 rountrips this year and we have about 5 more to go for this year. She knows this bag is her house and it means travel! I have a 7 lb. Chiweenie with a very long body. She lays out comfortably in this bag. People stop and ask me constantly about this bag. Best doggy backpack on the market!! It has great ventilation, lots of strap options, and is pretty sturdy. There are 3 improvements I wish could be made. 1.) I wish the logo was in a better spot so it could show when I use it. 2.) I wish there was a bigger velcro storage pocket. 3.) I wish it came in hot pink!! (Pink is our fav color!) But these little things won't let me keep my pup from her favorite bag!
Hideaway Duffel - Aqua
$85.99