Flying Saucer - Chew Toy & Treat Dispenser
Guaranteed Safe Checkout
Durable Chew Toy
The Flying Saucer is designed to withstand the abuse of most "power chewer" dogs. Chewing on this toy will help keep your dog's teeth clean and breath fresh. Veterinarian approved, so you can rest easy while your dog chews on this toy.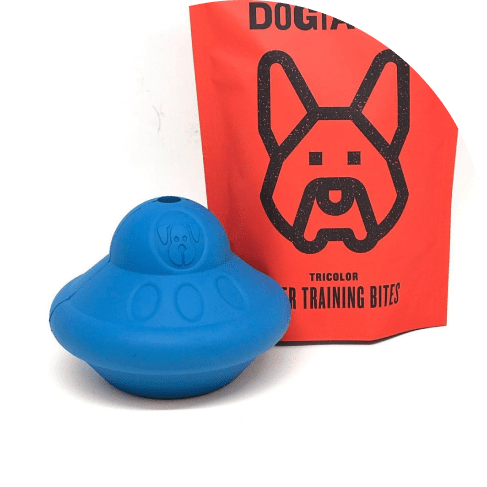 Flying saucer specifications
A chew toy and a treat dispenser
Treat dispenser
Help your dog fight boredom by filling the Flying Saucer with treats like kibble, canned dog food, peanut butter, or your favorite dog treat recipe. Best results: mix wet/dry foods.
Slow feeder
If your dog is a "speed eater", serve your dog's meals inside this toy. It will slow down eating and keep your dog stimulated and entertained.
Animal and planet friendly
Material is FDA compliant, non-toxic and biodegradable. It is sustainably harvested, helping us reduce our carbon footprint.
Made in the USA
Proudly keeping jobs in America! Designed and manufactured in the USA!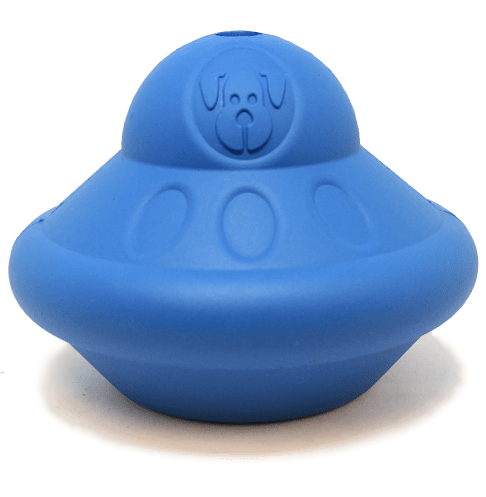 It will become your dog's favorite toy
This flying saucer chew toy will help your dog with problem chewing, boredom, and separation anxiety. It comes at 2.25" tall x 3" wide 3.5 oz. for dogs 15-35 LBS (7-15 kg). Dishwasher safe and easy to clean!
About SodaPup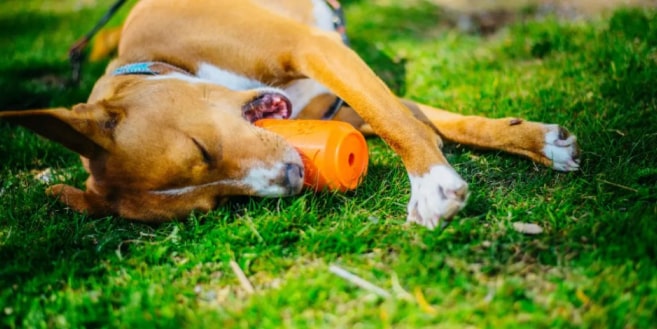 At SodaPup we specialize in creating fun and innovative dog toys for dogs that destroy everything! All of our products are made in the USA and are FDA compliant, meaning they are the safest dog toys in the market today. SodaPup has developed several brands, each with a unique theme that appeals to different consumer segments. Our brands are SodaPup, USA-K9, Industrial Dog, MuttsKickButt, Spotnik, and Harvard's Finest (our brand of grain-free dog treats). SodaPup gives back to the communities it serves, directing contributions to animal shelters as well as dog-related veterans organizations.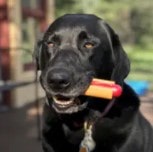 Designed In
Boulder, Colorado
This toy bounces! It bounces like super high! Like, don't throw it too hard or you'll bust out a light hard. Our labs love it! We don't even have to put in any treats, they just love the irratic bounce! It holds up so well. Love it!

My Golden retriever, who defines "power chewer" has really enjoyed this toy so far! There are no signs of wear (usually we know within an hour of a toy is made to last). He's liked it both with and without treats inside. Any toy he likes that isn't in pieces or dangerous within minutes is a win in my book!

All 3 of my dogs love sodapup toys!!! If my pit bull doesn't distort it in 10 mins it's a good toy

Bought this for my 40 lb. Sherpard/Cattle Dog mix pup for Christmas. We've bought toys from this company before and it's lasted some time for her. I'm excited to give her her gift!

My dog isn't just a super chewer, he's a super SMART chewer. He loves figuring out a toy's weak spot to pick it to pieces. We've had this for a few months now and it's still fully intact! It fits a lot of his treats really well so he's entertained without getting frustrated. There color is also great for finding it when he leaves it out in the yard. Very, very pleased with this toy.

Our 2 month old puppy seems to like this toy. It may be a little tough for him at the moment, but I can see this being more entertaining when he gets the hang of it. I try to keep it easy for now, throwing in small treats that would fall out easily. Then over time, I'll stuff it with harder treats. The bottom hole of the toy has convenient flaps that makes it harder for bigger treats to not fall out immediately, which I prefer over other brands. I'm looking forward to stuffing and freezing this toy for some quiet time. This is a well made toy for the price and I would recommend this toy.

Our 5 month old Shepard mix is a very busy, destructive little girl. Gosh, does she get bored easily! So we've found this treat toy to be an awesome addition!!! It's very durable! It has a small but strong main hole, including the flaps. She has to work incredibly hard to get her treats out. It probably takes her around 45 minutes (give or take) to get to the same amount of treats she would have normally inhaled in 5 seconds. The design is a bit unique too. We have two of the original shaped Kongs and five different Kong knock offs of different shapes. She seems to prefer this one the best. It's the only one she sticks with it until the end (once all of her treats have been retrieved). It cleans up really easily too. I've thrown it in the dishwasher a few times on high temp sanitizing wash and it is holding up well to that. I will be back to buy more SodaPup chew treat toys for her in the future. And most likely be giving out SodaPup instead of the Kong brand as new puppies presents now too! Highly, highly recommended!!!