Hideaway Backpack - Black
Guaranteed Safe Checkout
Ideal for small pets
Enjoy the portability of a duffel & the convenience of a backpack
Prefer Pets Hideaway™ Backpack pet carrier makes it easy to carry your little furry friend on your back. Whether you're walking down Main Street, along a trail, or through a busy airport, you can relax knowing your pet is safe and secure in this thoughtfully designed small carrier.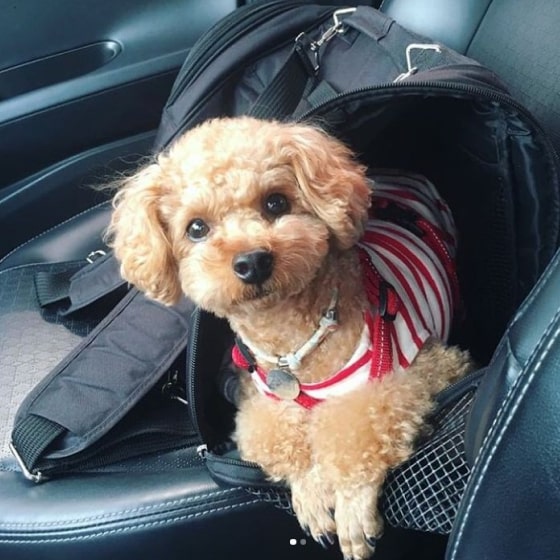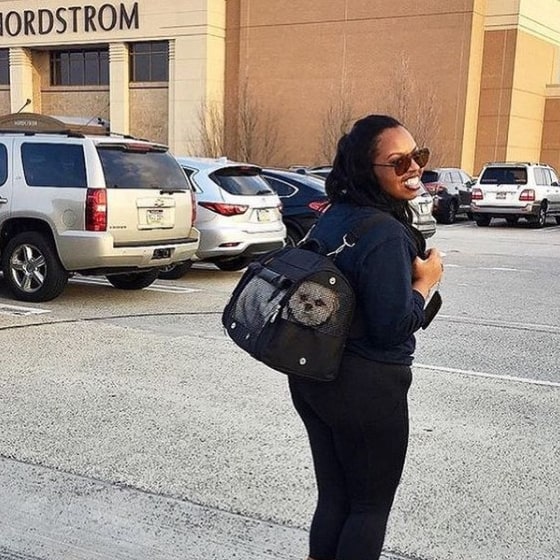 New, safe, and secure
The Hideaway Backpack is made with your pet in mind! A zippered side panel allows for your pet's easy entry and exit. Mesh windows on three sides provide ample ventilation making this carrier the ideal choice for your pet's health and comfort. Each panel features a roll-up-n-down privacy cover to shut out distractions for discreet travel.
For pets up to 15 pounds
Wear as a backpack or with the handle
Mesh windows on three sides
Fully lined & padded interior
Machine washable baseliner
No worry travel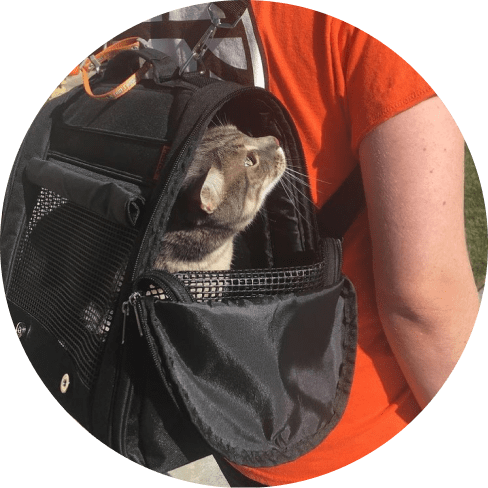 Your pet will love traveling even more
A size opening makes it easy to slip your furry friend into the carrier and a quarter-zip on the opposite end lets your pet poke his head out of. Mesh vents ensure your pet has lots of air circulation.
Adjustable for a comfortable fit
You can reposition the backpack straps to carry this bag over your shoulder. The carrier also has a handle on top so you can carry it next to your side.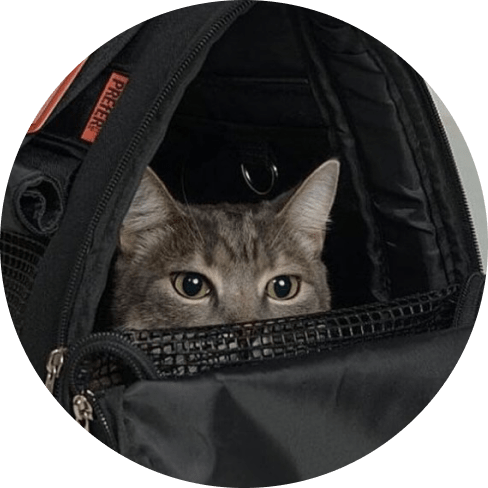 Less stress & anxiety
This Prefer Pets carrier also has roll-up flaps on each end to keep your pet hidden from view. Reduce stress!
Everything for your convenience
It has a water-resistant exterior and machine-washable baseliner. It also includes a luggage tag & Pet ID card.
About Prefer Pets
My husband and I started Prefer Pets in 2006 on an afternoon drive to Victory Park in Pasadena CA, to spend a lovely Saturday with our 2 pekes, Button and ShoSho. On our way there, our boy Button escaped from the carrier that we had bought at a pet box store and proceed to play with us by running around on the floor of the car, ducking under the car seats, and finally wedging himself behind the brake pedal (Button being a tiny 3 months old at the time). Luckily, we were able to stop the car without any injury.This is when we knew we need to have a better carrier to travel safely with our 2 fur-kids. From our first carriers, original duffel and original backpack, created with features and functions that we wished we had on that day, we have persistently evolve the designs of our bags based on feedbacks and pressure points from real customers and from our own journeys with Button and ShoSho as they grew older. Every Prefer Pets product that we make, it is with the thought of what we would want ourselves in term of mindful designs, quality material & construction, and customer service when we were buying pet products for Button and ShoSho. Today, we proudly remain a family business and are still based in Southern California, and while our little boy and little girl are no longer with us, we are committed to continue making quality travel carriers for pets and the people who loves them, for enjoying life's journey with their own Buttons and ShoShos.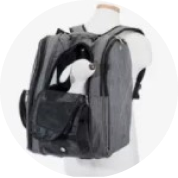 Designed In
Rancho Cucamonga, California
Great product. Our Pekingese is 11 years old. We needed something sturdy to go on walks and to protect her back. I have been looking for a bag like that for many years now. It is very comfortable to carry around and she loves it !!

This is a nice carrying case, with interesting options.

I just like it to bring my weenie dog in stores lol

Perfect size for my kitty. A little wide on my shoulders

This is well made. I was hoping to be able to carry my dog with the case vertical instead of horizontal, that would be 5 stars.

This carrier is a good size and is comfortable, but it seems like there could be stronger reinforcements for the d ring on the top. With my puppy in it it looks like the seams are pulling a lot.

Quality product. I purchased this product for my pup poodle. The carrier has plenty of ventilation which enables me to carry him in long walks in 80 degree F weather. I've had other carriers that became very hot in mild weather so ventilation was very important to me. The carrier can be folded without difficulty for easy storage. I opted to keep it on the floor so that my pup has access to it incase he wants to go into it.

I actually haven't used it yet but I put it together and my dog got right in it. I closed it and it's everything I wanted. Seems good quality for the price. I love how versatile it is. I'm planning on flying in July and using it for a cat.

Love love love love!!!!!!!!

Great bag. It's the best one I've purchased. I must say prior to this purchase, Ive bought three OTHER brands and they were a waste of money. I highly recommend this product!

These worked out so well for our international move. The are compliant with the delta regulation for size - they fit under the seat in front of us.

I love this bag. I was nervous about it because it seemed so big and I was flying on Spirit airlines which has such small beg sized but it worked perfectly. I didn't even have to put it on its side to get it to fit. I compressed it a bit and it worked great. I love how much head room there is for my dog when she isn't under the seat. It's a great.

Love this bag. Did just a bit of training and Sidney took right to it. Went camping and hiking this past weekend and my Doxie was enjoying the breeze and looking around through the open too. So glad I found this bag. I'm recommending to everyone. Well made, easy to carry. After moving the cross strap up a bit it solves the problem I initially had with the shoulder straps slipping off.

This pack is PERFECT for taking our now elderly Norwich terrier (12 lbs) on hikes. It's a really well-designed, well-made carrier. Funny thing - we put our dog in to try it out, and then she didn't want to get out. ( : We tend to go on 10+ mile hikes up in the mountains, and it's very comfortable for both me and our dog. We did a lot of research, comparing about 15 carriers to this one, and we are so happy we went with this one.

I LOVE THIS THING AND SO DOES MY DOG!

My little guy can be very picky about going into a travel bag but as soon as we put this one together he got right in and we were able to close it without him fussing. He was even walking through out and sniffing around inside when we placed it on the floor with both ends open. Can't wait to see how he likes it while traveling as a backpack but so far he loves it.

I like to bring my cat when I go out, I really like this backpack for my cat, make a lot easy when we hang out

Great product, even better customer service. I use this whenever I go out and it is sturdy and high quality.

I love this backpack. I bought it so I could take my Pomeranian with me, and I got a large size so he could sit up, stand, move around, and rest comfortably. It's collapsible for storage, but kind of a pain in the butt to fuss with the frame, so I leave it up and just put it in the closet. It's comfortable to wear, comfortable for the dog to be in, and plenty of windows for him to look out of.

We bought this bag about 8 months ago and have used it extensively on hikes, bike rides, and car rides. The pup loves the bag, and so do we! The quality is very very good! A really great bag!

This is a GREAT backpack. My Dog, a Maltese loves it . It is sturdy and my little one Is so comfortable. We also babysit my Aunt's dog a slightly larger Cairn Terrier, she loves It too! The bag is very roomy. We haven't tried the front strap or one of the others included but having options is great! This bag is also comfortable for the wearer.

My Doxie got a herniated disk but I didn't want her to miss out on hiking. Invested in this carrier to carry her along with us while out and about. Great product.

This bag is awesome! I know some dog carriers look nicer but the convince of this thing is great! I own two different backpack kinds and prefer this one over the other because it has a pocket to put things in that the other does not. Would not travel any other way. So nice being able to free your hands and not carry a heavy bag around.

I have a pup traveler and have used different carriers, but nothing is as durable as this! She loves it and it's easy on my back. I don't have to worry if she is comfortable or slumping. I love it!!

My 9 year old silky loves his new mode of transportation. He is a lover of strollers and being pushed around like a King to receive his adoring public. This backpack is another regal way of transporting his highness! It is a little snug (which is fine by him) so measure your King or Queen carefully. For me, it is was easy to set up (instructions included). It is durable, easily holds his weight (15 lbs) and relatively comfortable to wear on back or front. Hope this helps!

So far so good! I haven't traveled yet with it so I'll update my post then but it fits my pup of Japanese Spitz great and she doesn't mind it at all. I can already tell this will be much easier to carry around than my older shoulder bag. It looks huge in the picture but it's really not that bulky.

I'm so happy with this backpack. I was looking for something to carry my miniature daschund because we had a trip and she is a little bit heavy for a shoulder bag. After reading all the reviews I got this one and bummm the best!!! I ordered this and it was perfect for my dog. She has a long body and she fits well there. I used for there and it was great too. I definitely recommend this product !!!

Used this for the first time last week. I love the backpack option and the lightness of the product. Osiris loved to have his head out of the top window while we booked it to the gates. Glad I made the purchase. One suggestion for improvement, make the shoulder straps nonslip...the shoulder straps for the backpack are slippery on my tee shirt or sweatshirt and need the chest strap to keep in place.

This pet backpack is simply the best pet carrier I've ever used. As a small dog owner for most of my life, I've obviously tried many carriers for everyday use and airline travel. This carrier is built with quality materials and is constructed with integrity and attention to small yet important details for the small to medium dog owner. I am especially impressed with the water resistant materials that make any necessary clean ups very easy, and love the strap options on both front and back which make carrying stress free. The washable lambskin bed is also high quality and washable in a snap, and that I can fold it up into such a small package when storing is a huge plus as well. I highly recommend this carrier for anyone who travels with small cats, dogs or similar sized animals.

Great bag. Bought it to pick up my cane corso (puppy of course) to fly back home with me. Because I used it as a backpack many didn't even know he was on the plane. I had to turn around to show the ticket collector where he was once I gave him his ticket. He had plenty of room plus a couple of toys and a blanket. Plans were made at the last minute, and the bag arrived the next day. Of course this was single use for me since my puppy is already over 22 pounds (2 weeks later), but I washed the pad and now I'm giving to my mom to enjoy.

Just finished my first international flight with my cat in this amazing pet carrier. Not only is it extremely light weight, he is much more calm being able to see out both sides. With all of the clips, you can also easily hook other accessories to it (like my trusted collapsible litter box). Having to coax the cat out of the carrier to go through security was a bit of a challenge, but I realized that if I opened it from the back and pulled him out it was doable. Not many other carriers have that option. The only gripes I have is that the clips for all of the straps are very stiff so hard to undo, and that I am a very small person so the backpack straps don't get short enough for me to wear this comfortably as a backpack. However, these minor concerns are outweighed by the benefits. Great carrier!

We bought a bag for our 7 lb cat for airline travel. She's never been on a plane before and hates riding in the car. We were looking for something sturdy and practical - this bag is just that. The quality of construction is excellent and the design is well thought out. It has two frames that you attach to the inside with velcro tabs that keep the bag from collapsing on your pet when you lift up the bag. These can be easily removed to store the bag flat. The 3 attachments for carrying the bag (hand, shoulder and backpack) attach easily but firmly. Our cat didn't wait for me to finish inserting the frames before she crawled inside and claimed it as her own. She lounges in it, sleeps in it, and waits inside of it to be carried upstairs for bed and downstairs in the morning to start her day. She has enough room to easily turn around and is not cramped. There is plenty of ventilation and easy access in and out. So far, this bag is a big winner.
Hideaway Backpack - Black
$93.99