'Peach, Please' Adjustable Dog Harness
Guaranteed Safe Checkout
'Peach, Please' dog harness
Designed for a better pawtection
Created for the 'Peach, Please' collection, this awesome harness is custom-printed on the neoprene fabric with breathable mesh. One D-ring on the back is for the leash attachment and another versatile front D-ring can be used for "no pull" or tags. The harness is fully adjustable in both neck and chest areas, making it the perfect fit! To fit the XS size, your dog measurements should be the following: neck - 10-16 in, chest - 14-19 in.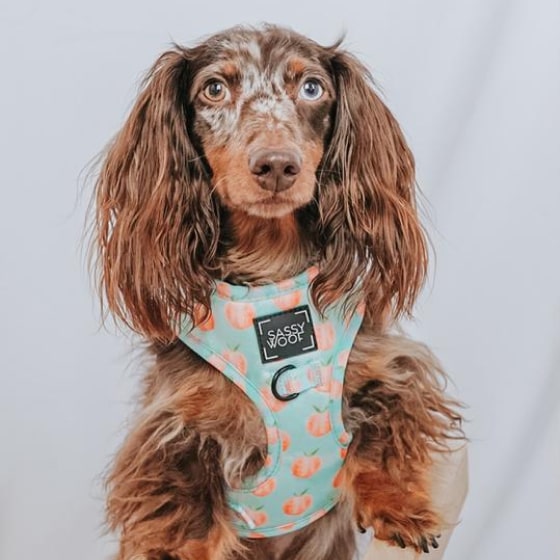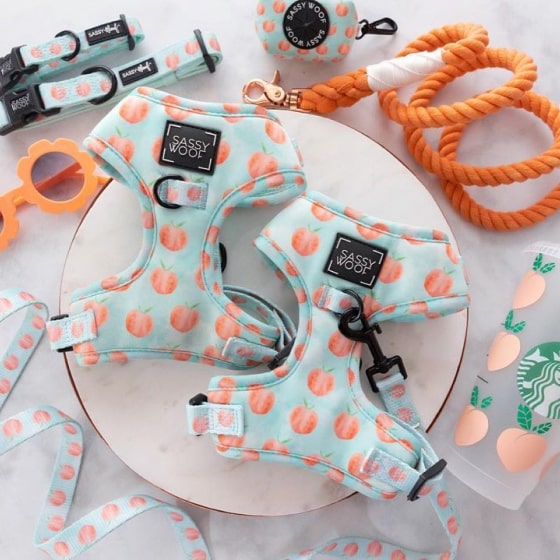 Adjustable dog harness
Made with love and care
Durable and comfy
The 'Peach, Please' Harness is strong and long-lasting. It's comfortable for your fur-baby and perfect for daily use!
Excellent quality
Custom printed neoprene fabric with breathable mesh. The harness is great for extreme wear, lasts long, and needs no special care.
Support a good cause
A part of the proceeds are donated to animal charities. Every harness purchase feeds a shelter dog. Make your contribution and help shelter dogs suffer less!
Cute design
The designs of the 'Peach, Please' collection are the direct result of endless hours of careful thinking and meticulous attention to detail and crafting.
Just peachy
Have your pet feeling peachy in the 'Peach, Please' collection. With its mint undertones and sweet peaches, this is the perfect harness for those spring and summer days.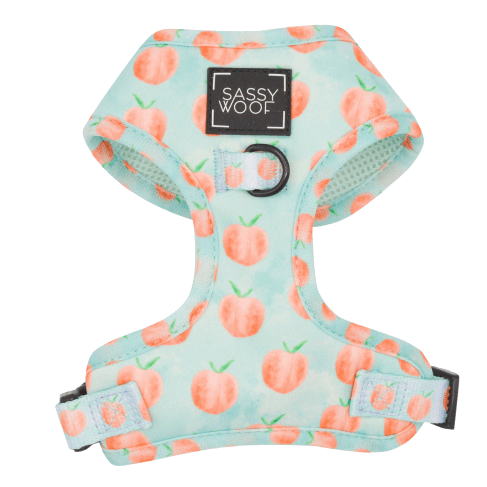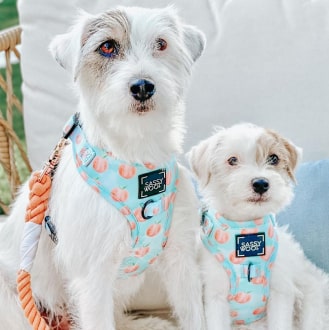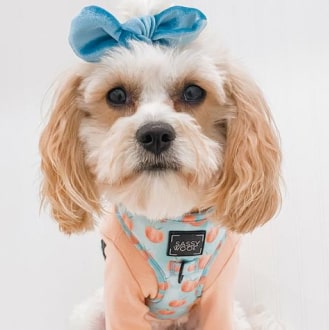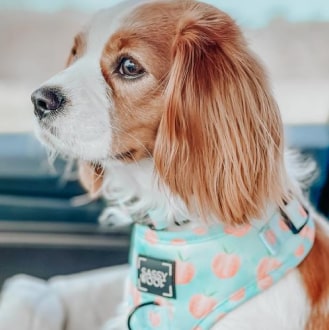 About SASSY WOOF
Modern. Classy. Affordable. Inspired by our two sassy & spunky dachshunds Maya The Dox and Winston The Dox, we created Sassy Woof to deliver a dog apparel experience that makes your fur-baby feel comfortable and fit for daily use. Our designs are the direct result of endless hours of careful thinking and meticulous attention to detail and crafting. We focus in developing new accessories and products every season to keep your pup's wardrobe as fresh as yours without breaking the bank. Our customers are like our family and we love interacting with each and all of you! Sassy Woof is a small business proudly based out of the suburbs of Washington D.C. A portion of our proceeds are donated to animal charities because no pet should suffer in this world.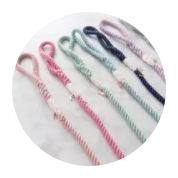 Designed In
Sterling, Virginia
This harness is everything I ever wanted.

These harnesses are well made and very attractive looking. They are durable as well

I'm quite pleased. This fits well my 6-month near 14-lb Cesky Terrier.

Harness arrived quickly so I was thankful for that.

These harnesses are really stylish, and seem to be well made, though I think it would work best on a specific dog body type. Dogs that have a broad chest like a frenchie, a Boston, a pug, perhaps a corgi, a boxer, or a pitbull, maybe a bulldog. My girl has a fairly narrow chest and not much space for the harness to lay properly.

Great product. Highly recommend it ! True to size, as well.

We tried a couple of harnesses and so far this seems like the best fit.

I have purchased this harness twice.

Easy to put on my dog & he seems to be comfortable in it.

Would definitely recommend this to those looking for an inexpensive harness for your dog.

Well made harness. Compared to store prices, this is an excellent price. My dog and I get compliments everywhere we go.

My dog doesn't mind wearing this all the time, but she does sometimes get her leg through the wrong section of the harness and then it is kind of uncomfortable until I notice it and fix it. However, it was very effective at controlling her desire to "pull" me along when walking. She doesn't pull so much and she has learned to walk at a similar pace to me and she seems to enjoy the walks more.

Fits my 35 lb island rescue dog perfectly, she is comfortable in it and I have good control for when she has an episode of "stranger danger" on walks.

Absolutely LOVE this. I got small for my 6lb toy rat terrier who can slip out of every other harness I've purchased. This harness works great

I bought this for my small breed puppy for extra security and leash training. It fit him great on the tightest adjustment, giving plenty of room to grow. It fit snugly so he wasn't able to slide out

After 6 harnesses I finally found the perfect harness to fit my sweet little puppy. It is lightweight and breathable. My pup is only 8 pounds and her neck is small but her chest is broad. This was the only harness that would accommodate her unusual size and shape.

He's about outgrown it already, but we got a small one for our GSD pup. He was 10 weeks old at the time. It's been a great harness for the price. We've definitely gotten our use out of it!

This is the first harness we've had that actually fit our dog properly. It fits well and seems to be comfortable after a couple of months of wear.

I am so happy with this purchase! It fits perfectly and is easy to adjust. He loves to wear this style of harness, and he doesn't want us to take it off. Will definitely buy another one.

Bought this for our Dorkie down here in the heat of south Texas summer mornings. It is definitely more breathable than the last harness we had. She seems to do just fine wearing it & does not act like it itches her like other reports. Hopefully it will last a few years, do not see why it wouldn't so far. Would recommend it.

This harness is much more comfortable for my dog. I have a 21 pound miniature American Eskimo and with lots of fur. Other harnesses I have tried are hard to get on and off over her head and she struggles to get it off. This one is much easier to put on and take off.

My dog broke the first one. The piece between the neck and chest straps broke completely off. I don't blame the maker because I do have a large dog and she is very strong. She tore out after some other dogs while on her lead outside, and that piece snapped right off. I DO think highly of the product, and have ordered another one! I do recommend it, especially if you have a smaller dog.

Finally found a harness that fits my pug the way I need it to. I like how it fits his waist and isn't those rough basic straps that ride up underneath his armpit area. The vest fits nicely on his chest area , and not anywhere on the throat. It also fits so you have control without having to really pull or cause them discomfort. So glad I looked at the reviews and chose to get it. We walk our lil dude everyday and this one is a winner. It's a relief, because we had to take a break for a few days, due to the other one causing mild irritation on his skin.