Pet Comb
Guaranteed Safe Checkout
Fur that is soft and silky
Combing is a necessary part of grooming. With this comb, you can get rid of any hair lumps and prevent new ones from forming. Be certain that your pet's fur will be smooth and healthy: this comb is made to provide you with that.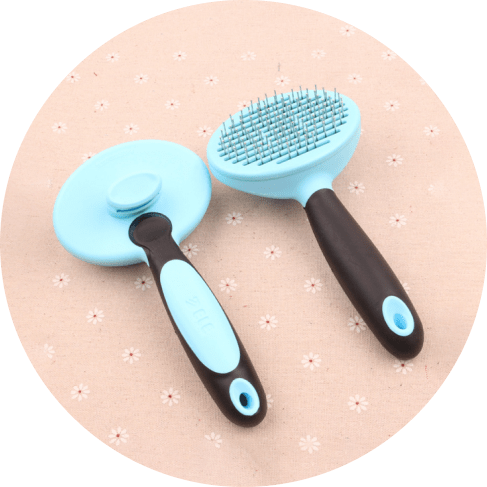 The convenience of pet salon in your hand
Save your money and preserve your nerves
Simple to clean
Forget about the hassle of cleaning traditional combs. Simply press the comb's button to pull up the plastic section and remove the fur!
The pet will enjoy the grooming
This comb has a lot of teeth with circular heads that massage the pet's skin well. It helps in the relaxing of the pet and improves blood circulation.
A reliable friend
Made of TPR, this guy will be a trusty helper in your grooming routine for a long time. Stainless steel and PP teeth don't bend and break easily.
Easy to carry around
Comb your pet anywhere you are. Sized at 3.54x7.08 inches, it's easy to slip into a bag and take with you everywhere you go!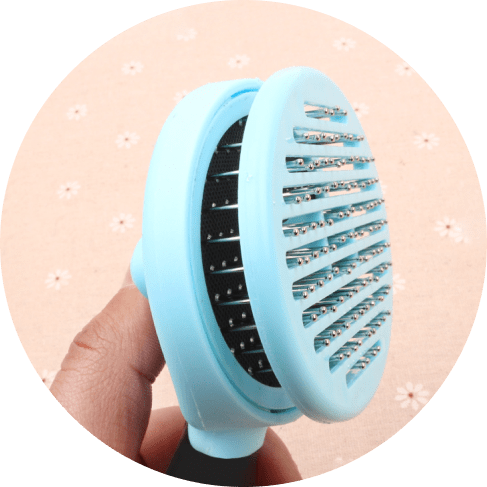 A win-win for both of you
The comb removes the bothersome lumps that are so annoying to the pet and you, as well as all the extra fur. Forget about the flying around fur and clothing that you always have to clean up. Incredible comfort and convenience for you and your little friend.
Brush as in the picture. Good one. Easy to use, and seems to be durable. But, our French bulldog does not allow us to scratch it normally. But we have two long-haired cats with quite sensitive skin, they liked it, it combs perfectly. Very convenient, the quality is the best, I really like it.

It's better than the previous combs that we had. It looks very good, nice color. Perfectly combs for a small puppy. The puppy was not hurt or uncomfortable when scratching. Very convenient thing.

It combs the German Shepherd perfectly, and a smooth-haired dog, and a long-haired cat. Most of the undercoat is combed

Not bad, but the handle is short and the shape of the brush is uncomfortable. But cat likes it.

The best comb for a cat! The result exceeded all expectations.

Very good brush. The undercoat is well combed. Recommend

Nice thing. For long-haired cats, what you need is the most.

Good brush at a good price, my dog likes it.

Excellent thing, easily combs the wool.

Excellent comb for a small dog.

Works fine. My cat and dog liked it.