Talking Hamster Plush Toy
Guaranteed Safe Checkout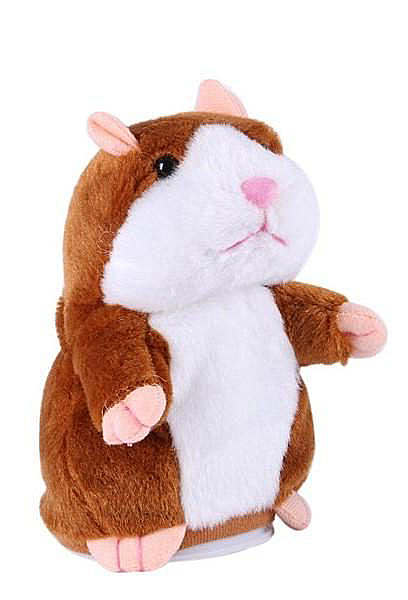 It says what you say
"This Talking Hamster Plush Toy is awesome." Say it, and our Talking Hamster Plush Toy will repeat right after you. Because truly, this hamster is the perfect toy for a kid learning verbal cues and how to speak. It's a fun companion to delight young ones with, thanks to its unique, sound-recording ability.
A built-in recording device is activated whenever you speak, so that this fun hamster can record and repeat whatever you say to it, all in a funny pitchy voice. Delight children with this wondrous toy that walking around while reciting your recorded words. The hamster recognizes any language for an international, multi-lingual friend (who knew a hamster could be so talented?).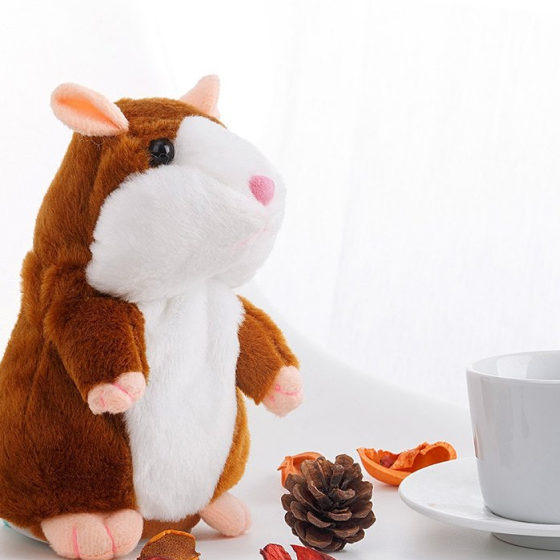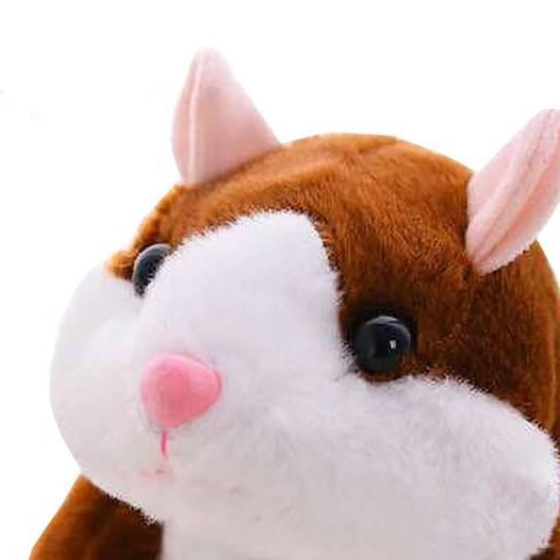 Battery powered
All it takes is three AAA batteries (not included) to bring one of these bad boys to life. No fussy controls. All you have to do is turn the power switch on, and the hamster will repeat your phrase within two seconds.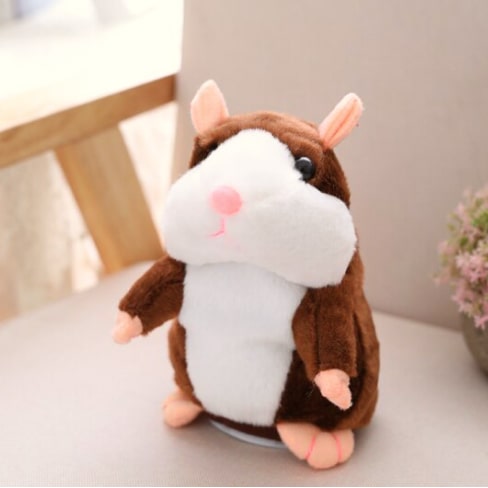 Built for a fun time (for a long time)
A sturdy plastic base and soft-plush exterior mean this talking hamster can entertain a young child (or the entire family) over and over without breaking or falling apart.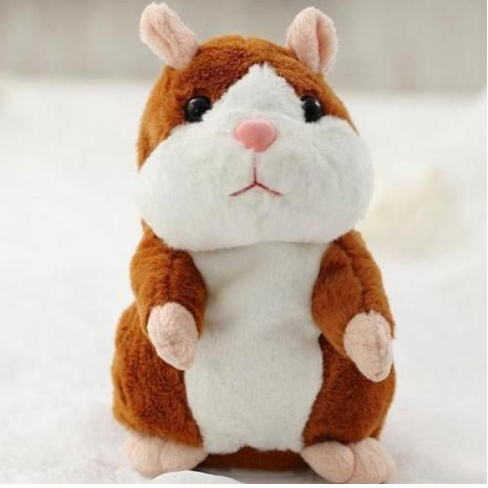 Perfect my son is happy He has a lot of fun with

Hamster is beautiful, funny shakes and repeats words. Nice toy!

All right, and working properly, the shipment has been super fast. Thank you

Pretty nice talking toy. My 3 years old son love it . He always try to talk with it, and treat as a little friend. It has good record system, its voice is high and squeaky. Every time, it repeat what u say, it will move its shoulder. It is so funny. Also, it's hair is soft and comfortable. Just one thing we need to know. The batteries will use fast. So, when u don't want to play. Don't forget turn off power, try to save batteries.

This hamster is a very funny toy for children. I like how it repeats whatever you say. It is pretty small and very easy to carry around. It repeats whatever you say or whatever sound sound you make very clearly just like what you said or what sound you just made. My daughter loves to play with it, she brings it almost everywhere and anywhere she goes.

I bought this when my son was 2 and he loved it, 2 years later the hamster finally died and i just bought him another one so heres everything you need to know! • There is no volume control and the first unit i had was super loud (the second wasnt as bad), i hated it but my son loved it so not much you can do except wait for the batteries to die amd give it some time in between putting new ones in. • Eats through batteries like no ones business. This is very true so plan ahead and just buy rechargeable batteries. • Very durable, with having the first hamster for 2 years im suprised it held up. My son would drop it all the time and play rough with it and still talked up to the end the motor assembly went out a year prior. • Overall im very happy with this purchase i just wish they would turn it down a bit, theres a lot of complaints about this toy but some people seem to be unpleasable.. its a $12 toy if you expect more then stop being cheap and go spend more on another toy/brand.

Just love this toy. Well made. So soft and sweet. Bought it for 2years girl Christmas present, hope she will love it , as I am .

I have had so much fun with this hamster, my daughter likes to play with this toy. They work very well and safety for small kids, there are latch and button switch on the bottom.

Little hamster toys for my son! When he's going to cry, I'll come out and cry with him! He did not cry! Instead, he kept looking at the hamster! Then the son smiled! That helped me a lot! But sometimes it scared him because the sound made by hamster is loud. Anyway overall good quality this little hamster! Use three AAA batteries! The operation is easy.

I love it! This hamster adorable! Repeats all sounds, can be turned off at any time. My two year old son very loves this hamster

I ordered this as a Christmas gift for my son. Very good item for pretend play and cuddling up to, my son absolutely loved it and takes it everywhere. He likes that whatever you say to the hamster, it repeats it back with a shaking head. Super cute and lots of fun.

This little guy is going to be the life of the X'mas party this Christmas

Besides play, the toy can be adapted for developmental activities. My 7-year-old memorizes addition/subtraction facts with it. My 2-year-old enjoys talking to the hamster, which helps with speech development/language acquisition. This is a great toy! It is thoroughly enjoyed by my children.

Super duper cute! My kids love it. It can repeat what ever you said and made them laugh loudly

We ordered these for our niece and nephew who are toddlers and we put batteries in them to make sure they worked. They do. We were laughing so hard we ordered one for ourselves :) They are adorable, funny and very soft. They are great for all ages.

Hilarious and adorable! Works great!

This is a very popular Toy in the past winter(still undergoing). My friends all bought one and recommended it to me. I bought one for my daughter. When it arrived, my daughter cried because she heard toy speaking. We all laughed because of my daughter's reaction. But she likes to hug the hamster on the second day, still she doesn't allow to turn it on. Since the fourth day, she loves the hamster so much, always speaks to it and calls the hamster "good friend". We knew it, and we are glad that my daughter becomes brave. The only one thing is it needs 3 AAA batteries and the item doesn't include them

Best thing I ever bought. I bought this for my cats. My husband ended up playong with it instead. Haha

Both my there years old girl and ten months old baby love it.

Keeps my dog entertained. Barks and goes crazy when it barks back

This thing is hilarious and mimics every sound

Bought it for my 3-year old boy. He likes it very much!

funny lil thing me and wife love it daughter was scared of it at first now she's a little more warmed up to it but still not too much

It's simple but hilarious, it's best with a crowd of friends.

Bought for my nephew for his birthday. He loved it. Very cute. Thinking of buying another one for myself.

this talking hamster is good,it is small and cute, my kids very happy that receives it.

we have 3 and we love these stupid things!

My beautiful grand-daughter, Isla was born in Sept. To me, she is the whole world. I gave her one of these genius toys for Christmas knowing she would need a little time before she grew into it. My son, turns on "Mimi" (hamster's name) recently and Isla's squeals, spits and garbles are bounced back to her. She looks with surprise at Mimi, smiles, then speaks a little more. Soon you have an on-going conversation between Isla and Mimi. It is funny to watch. I will try to add video upon my next visit. Thank you for giving Isla a voice!

Talking hamster is so cute. My whole family laugh so hard.

My dogs absolutely LOVED this hamster! Both my spouse and I have both gotten many laughs from them when we turn this hamster on and have it repeat what we say.

This is a must, I stumbled on this by accident as I was searching for a gift. We were all in tears playing with it and we're all mature adults! lol I ordered 2 more because I wanted one for work and one for a gift but my husband told me he also wants to take one to the office!

I bought one for my granddaughter, who loves everything that has fur, for a Christmas gift. I'm sure that she will love it.

Construction is very sturdy with solder points covered in glue. This hamster is solidly built. The fur is very soft and it repeats long phrases.

You can't bring this one out and have him start mimicking people without a lot of laughs. So just for the laughter, it's well worth it. But idk if it's the best toy for children. Maybe for the good children, not breaking things, yes.

I rated only 3 stars on softness, because this toy isn't really meant to be something you "cuddle." It is very soft, but who cares, you know?

It's super fun. But sometimes the hamster's voice is not intelligible so you have to make sure to speak clearly and it will repeat full sentences and words

I ordered two of these and I will use one for my dementia patients in the nursing home and the other one I will keep in my office at the hospital. It brings lots of smiles. It will literally repeat everything (your laughter, speech, sounds near it) which makes everyone laugh even more.
Talking Hamster Plush Toy
$23.99
Dark Brown